Every Business Needs a Name.
Sounds obvious but it's a key factor. Everything your business will be known for is reflected in the business name. Choose a name carefully. In most cases it's the  founder's name or a combination of names. Other times the name reflects an experience. For instance:
When Robert Wardlaw was in school his friends called him, "Eyeball."  While working at Coca Cola he was called, "Lucky." He and his wife were clowning around and combined both and it turned out a  crazy and delicious name for the business. In this case, the name may not mean a lot to the customer but over time it hold a real equity.
Orin Stuckey created the name based on a stage of barbecuing– that's when you apply a rub to meat and wait for the meat to sweat. He called it  "Sweatin Hogs" since sweating cows doesn't have a good ring to it.
Robert Derk served as an Army Sergeant along with two friends. An Army First Sergeant is referred to as "TOP." When all three retired out of the military as First Sergeants/ E-8s they came up with 3 Tops BBQ for the business name.
Tim Hence came up with the name based on his years of service in the Army, serving overseas with the 11th Armored Cavalry Regiment, known as the "Blackhorse" Regiment.
R&M Speltz Family Farm
Dr. Ryan Speltz, a veterinarian and farmer put it this way: We are a family and a family farm so the name seemed obvious.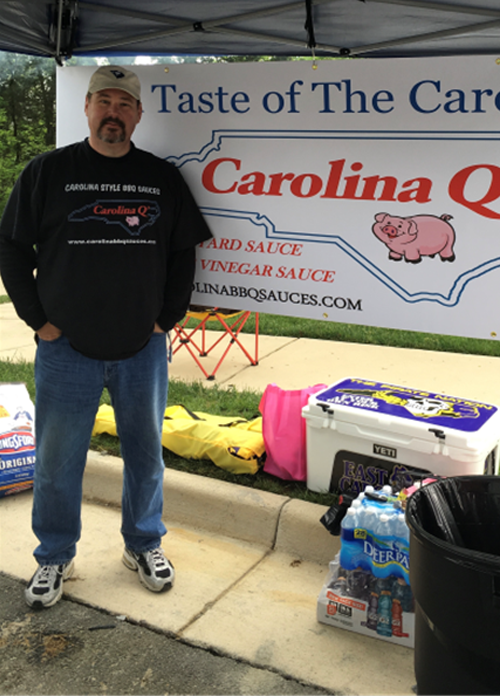 Douglas Morgan retired after 27 years in federal government as a Special Agent and followed lifelong dream to enter the BBQ and sauce market. He simply combined his name with his location and  used only the "Q" for BBQ ( pretty clever),  and there you have it.
Hometown BBQ
Bill Durney's passion for barbecue and quality came across as someone serving up meals in your backyard, so to speak, hence the name, Hometown BBQ.
Rusty's RockFeast
The Zack Brown Band pays their hearts out while Chef Rusty Hamlin creating smokin' hot barbeque for the fans. It's high energy and entertainment to the ears and the stomach. What else could they name it!
Tony Roy, isn't formally trained in culinary arts. He spend 20 years running a renovation company. Yet today he runs two highly successful mobile kitchens (food trucks) and has competed successfully in barbeque contests in 6 states. His name is his business in every way.
Joe and Christy Poteet reflect their assurance of a superb barbeque with their initials touting what they offer customers.
Smokin' Bills BBQ
You will smell the aroma in the smoke and the  reward when you stop by. The Bill Bender came up with is intended to be easy and welcoming. Looks like he achieved that!
One day Kevin Rushing was having a conversation about starting a barbeque business. He  talked about his dream and his friend blurted out, "Now that's the real deal." So, the name for the business stuck with him.
When Richard Harris was asked about the name of the business, he replied, "There are two of us, so it just felt like a good funny name.
Robbie Beeker is living out his passion for amazing barbeque. His name  telegraphs the main offerings.  The buck (or the meal, stop with him).
Here are a few steps to help you develop a business name:
If you are starting a business, you'll want to come up with name that works for you. Here are some main points to help you.
Define what is your business is about.
Who is your target audience?
What will you offer (uniquely).
What is the message you want to convey?
Is the name too long?
How easy is it to pronounce and recall?
Once you chose a name, make sure another business doesn't already have it.