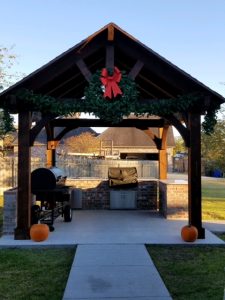 New Product Coming Soon
Gregory from Shreveport, Louisiana writes:
I purchased a Lang 48″ smoker last year. I have used it at least 2-3 times per month over the last year and am very happy with my purchase. The smoker is showing rust in several areas on the firebox. I clean the smoker thoroughly after each use and keep it positioned under a large cook shack which I had constructed (see attached photo). However, rain will still blow in occasionally. Does Lang sell any type of cover for its products, or can you refer me somewhere?
Ben's answer:
Within the next 60 days, we are planning to be in production on these Lang bbq smoker covers. The Lang 36 and Lang 48 original series patio models will be the first ones made and shipped in early 2019 winter months.
**Gift Idea…. Have your friends and relatives purchase BBQ Bucks for you.  These can be used for purchase of covers when they are available. Thank you for cooking with a Lang and for the great photo you sent.  You have a  fantastic setup, we are proud to be part of it !
Happy Holidays to You and Yours.