Lang – Innovation in Motion
Lang Manufacturing has always been moving forward, taking into account the wants and needs of its customers. These have become the basis of the Lang Customization options that have helped move Lang further into the forefront of the Smoker Cooker race.
When a customer couldn't fit his Lang through the back door into his yard, Ben Lang came up with the drop-down prep area the make the width of the Lang Smoker Cooker less so it would fit. This way you can drop it down and then bring it back up to use for prep work.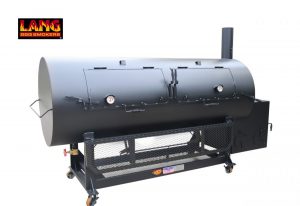 The larger tires were used mostly for the units that were being pulled behind a truck/car as a trailer. However, he found that owners of the smaller units, the 36" and 48", may have to move their unit around at their home and the larger wheels made it much easier to do so. Again, customization moved forward and people were given choices.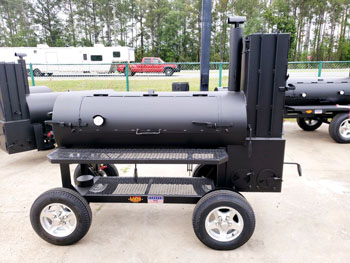 When business customers found that the space that they had allotted for their Lang made it difficult to open the Deluxe unit or the Firebox, Mr. Lang came up with the forward facing deluxe and firebox choice so that they could be opened to the front. This made it possible for their customer to get the full usage of both areas without a hardship to the user.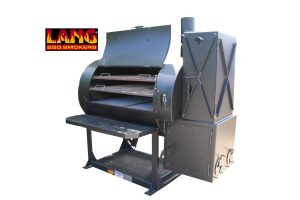 Has anyone else brought up the fact that many Lang Smoker Owners are left-handed?? Ben looked at that and offered the Left-Handed set up that makes it much easier for a left-handed person to utilize their unit, without having to use their non-dominant hand. Lang wants to make it as easy as possible for anyone to be able to be #cookingonaLang!! And make some amazing BBQ.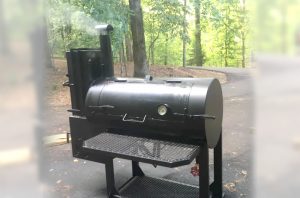 Need More Space
When a third rack was needed in the larger units, Lang surprised everyone with the 84" Fatboy. That was an exceptional unit that increased the cooking area on the 84" unit.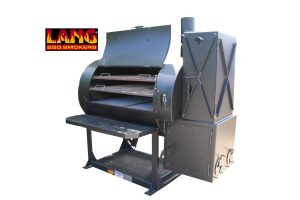 When to swivel
The swivel customization was brought in to help move the Lang unit with a T shaped pull attached to the unit and it was an extremely popular add on.
The Easily Moved Cart
But Lang was not finished with it yet!! Ben Lang has again brought his innovation to the forefront. Lang created a brand-new cart that can be used with any unit. It has the T shaped swivel but now it is paired with an upgraded hydraulics system that makes it as easy to move a 60" Deluxe Lang as easily as a 36". This new cart is an option for anyone who has to move their Lang Smoker Cooker.
You Need Cover when Cooking???
Are you going to be cooking in competition?? Are you going to be cooking outdoors in possible inclement weather? Do you want your Lang to be Protected?  Then you need the built in Cover for your Smoker Cooker!!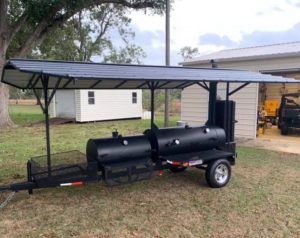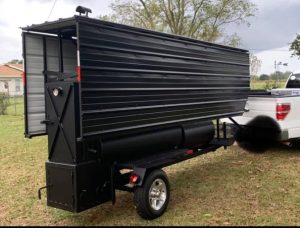 Make Your Lang Right for You
Check out Lang and make certain to look for the customizations available to make your Lang the best Lang for you personally. Speaking of Personal, you can have your name/business name/competition name attached to your Lang Smoker Cooker really making it yours alone.
Ben looks forward to working with his customers, seeing what new innovations both he and the customers can come up with. In this way, he can offer his customers what no other smoker cooker company can. The ability to make your job easier by making you the best smoker for you.
Which is why Lang is Innovation in Motion.