Hinsdale, Massachusetts is home to two historic long-distance routes: the Appalachian Trail and the Boston and Albany Railroad; a passenger rail service that has run continuously from Boston to Chicago since 1897. Born in Hinsdale was Israel Bissell, a patriot post rider in Massachusetts who, along with Paul Revere brought news to American colonists of the British attack at the Battle of Lexington and Concord on April 19, 1775, marking the beginning of the American Revolution.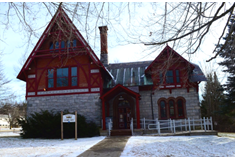 Hinsdale Town Library, erected in 1866, is a rare early example of French Tudor style imported to North America
An interesting town with interesting people. Among them is George Rinaldi, a Lang Smoker Cooker owner who does BBQ on both personal and catering projects and competitions. We had the chance to ask him about his BBQ experience and his Lang.
Some eight years ago George was driving over to see a friend. As he drove closer to the house he was hit with a spectacular aroma, delightful to the senses. Entering the house, George mentioned that wonderful, mouth-watering aroma and his friend told him that he wanted to show him something. Out back, sat a grill. His friend said, "You're smelling my sausages on the grill."
Bingo! That was it. George was immediately sold on the idea of getting into barbeque. So, he bought a grill and started to experiment with smoking pork butt and more. He really took this seriously and learned quickly. His friend called him to say there was a Backyard Competition coming up in Adams Massachusetts and asked George if he wanted to take a shot at competing.
Immediately George responded, "Yes, and I headed off to my first competition. I prepared southern style ribs, chicken, and a dessert cheese mix with berries. The judges were actual experienced chefs. But instead of focusing on the judges and what they might be looking for, I focused on preparing my food. There were about 25 teams there. It turned really exciting as I came in second place. It was amazing!"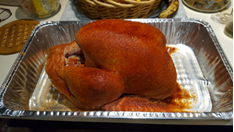 First attempt at a Thanksgiving turkey
George had always loved to cook, and barbeque was a natural next step. He began to get orders from friends and then for catering jobs and small weddings. At that point he purchased another grill. Just after that he heard about another competition with the Kansas City Barbeque Society (KCBS). He spoke to a few people and when they asked what grill he was using, they then asked George, if he had any idea what he was up against in this competition, with some of the best barbeque pitmasters and experienced cooks. He was told that using the grill he had, almost assured a loss. With that said, he called Ben Lang and wound up with a 60" Lang Deluxe.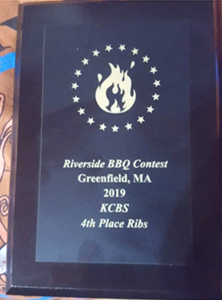 Riverside BBQ contest award
George continued smoking meals and when consistently larger orders were coming in, he realized he would need to step up his size and bought a Lang 84 deluxe with trailer. Now he stays extremely busy with meal prep after hours and weekdays as he still works full time as an HVAC Tech with a company.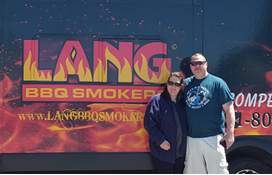 George and Kelly at their first competition in Brunswick GA. with Darryl Strickland, Q-School instructor, and Grand Champion.
His wife Kelly has been a big part of their success. "I'm a very sociable guy so I tend to go off and get in conversations with people and Kelly has to bring me back to get the work done, otherwise I'd be off chatting away and she would be stuck with all the work," George said.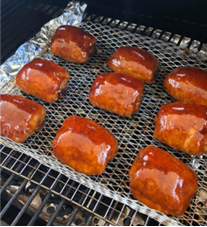 Chicken from a competition
As a support to the local hospital, George and Kelly prepare 8 pork butts, mac & cheese with baked beans and bring it to the workers there since their cafeteria is closed.
George made some comments on his Lang. "There's a lot of really great features to the Lang. The reverse flow is fantastic. When I have a brisket rendering, the fat hits the lower base, and the smoke rises up again and recirculates. Ben Lang is right; it makes all the difference in the flavor profile. I also like using the warmer box."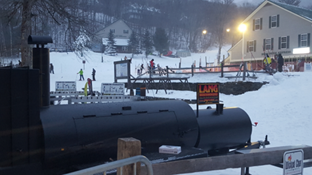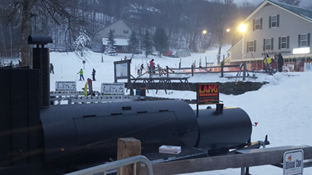 Cooking 80 to 100 pork butts for our local Ski resort every weekend
Lang:  What are some other thoughts you want to share?
GR:  I only use hickory. And I cut it 10 inches long and keep the diameter at around the size of a soda can. To me it's all about fire management and quality spices and rubs. Also, never ever rush the food. When it's done, it's done and not before.
Lang: What is your main goal as a BBQ cook?
GR: My goal is to create food that makes people feel good and enjoy quality. I have this passion to feed people for a good experience. I am working to become a Grand Champion.
Lang: What are some pitfalls you've overcome?
GR: Well, in competition there's a lot of cost. Entry fees can be $350 or more, the cost of wood, gas, travel and a place to stay. But it's also a great way to learn and meet others.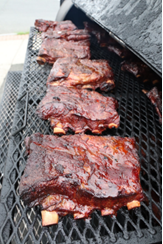 Big beef ribs on my Lang
Lang: What are some of the competitions you've attended?
GR:  Riverside Blues and BBQ, Harpoon Brewery Vermont, KCBS competitions. Mohegan Sun. I came in among the top ten.
When we asked George about the meats he uses, he had a clear opinion. "Not only do you need to understand fire management, proper prep, the right woods and so on, you have to have high quality meats, otherwise all the features and technique are useless. I did a lot of research and I buy meats from the Puza family's North Elm Butchers Block in Westfield MA. Dan Puza was so impressed with my Lang-prepared meats that he wanted a Lang. So, I put him on the phone with Ben and 30 minutes later he bought an 84 Deluxe Lang and trailer.  They smoke 40 'p briskets a week and 45 pork butts a week and more during the summer. I'm starting to do more and more work with Dan."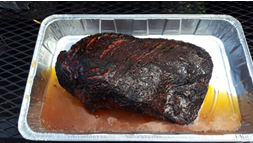 Brisket for a family cook out
Lang: What is your favorite meat to cook?
GR: Brisket, add salt and pepper, a Texas style rub, cook low and slow, add mac & cheese with some corn bread!
Lang: Any closing thoughts?
GR: "I absolutely love my Lang."