Pearl River, New York was a portion of land made up of woods and swamps and was originally named Muddy Creek. Well nothing will muddy-up the amazing fact that Gentle Giant Brewing Company BBQ is "out the front door," (the phrase Guy Fieri often shouts). We caught up to Matthew Worgul, owner and chef at Gentle Giant to conduct an interview about what he learned about starting a business.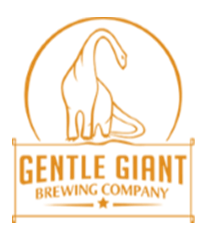 AP: Tell our readers a bit about Gentle Giant Brewing Company.
MW: Gentle Giant Brewing Company is a microbrewery, barbecue joint, and a home where you can forget about all of your worries. Our craft beers, slow smoked barbecue, and assembled playlist of music will allow you to shed the weight of whatever ails you. We are an all-wood fired BBQ with a full bar and games for adults and kids when they step in the door. Of course, making sure we offer exceptional service.
AP: Does your restaurant, like many businesses, have a mission?
MW: We have a mission. It's to offer customers something More Than Just Craft™. We provide an experience; an experience of how life should be. Refreshing, Delicious, and Simple. And, our goal is to serve the customer, that we consider a friend. It's our obligation to keep them thirsting for all that we currently offer and give an inside look into what we will be coming up with next.
What more is there to life than enjoying some food, beverages, and food for the soul.
St. Louis spareribs with kosher dill pickle chips and provolone
AP: What drove you to start this business?
MW: I couldn't find really good ribs, so I decided to start making my own. Clems BBQ out on Rt 22 outside of Pittsburgh was over an hour away, and I didn't want to drive there all the time. That was the closest BBQ place back when I first started out.
AP: Were you cooking/BBQing before you started?
MW: Yes, I was always a great home cook.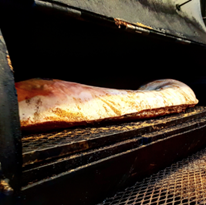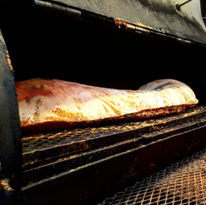 Half heritage Hog from Flying Pigs farm for NYC Pig island 2019: Rookie of the Year
AP: What would you say makes your business unique?
MW: We are an all wood fired BBQ joint and Craft Microbrewery, a deadly combination!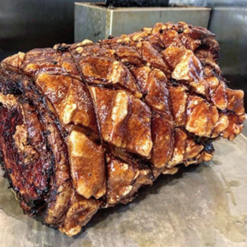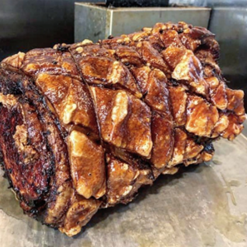 Whole Porchetta, smoked and fried
AP: How did you start the business?
MW: Private Funding, knowledge, and sheer willpower. 
AP: How did you get the name for the business?
MW: My buddy Max Davis just said it about me one day, and since then it stuck!
AP: What were some of the pitfalls you didn't expect?
MW: Building and maintaining a customer base which was really critical. Funding was also a concern.
AP: What would you recommend to someone new in the business?
MW: Do a lot of homework. Expect to fail, but don't fear it. You will have many failures, but they will lead to many successes.
AP: I see you use Lang Smoker Cookers.  When did you first purchase a Lang?
MW:  In 2015 I purchased a Lang 84 Deluxe on a wide body trailer with a chargriller. I did that based on a recommendation of my buddy Hootie at Blowfish BBQ back in Pittsburgh. If I was going to do it right, I wanted to do it the right way, and Hootie pointed me in that direction! I'm still working with my Lang 84 –I just cut it off the trailer and mounted it to some steel caster and it's situated under one of our 10-foot hoods in our kitchen. We take pride in our smoker.  Lang smokers only burn wood and help us deliver a consistent delicious product day in and day out. There are a lot of imitators out there but there is only one Lang.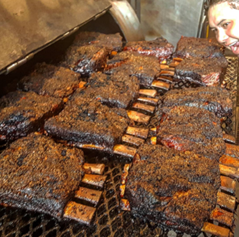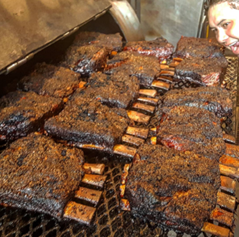 Dino beef ribs, with Tony Brichaux, the Lead Cook
AP: In addition to your skills and your Lang, what makes the food taste so good?
MW: Great BBQ relies on wood, not gas, not steam, but wood. You can't replicate the taste of great barbecue with any other fuel source. We pride ourselves on using some of the best locally sourced wood available. Our meats and customers only deserve the best.
AP: What features do you like best about Lang?
MW: Consistency across the board, the convective and radiant heat. If you feed it right, it will take care of you. Lang also offers reverse flow which produces a more even temperature throughout. They also really well made and they left a lot of capacity to load up meats with no problem.
AP: What would you say is your main goal as a chef?
MW: Provide the best possible BBQ for our customers along with our great beer.
AP: What are the favorite meals you like to prepare?
MW: Smoked Salmon, Bacon Wrapped Pork Tenderloins, House-Cured and Smoked Bacon, Beef Ribs.
AP: Are you involved in competitions?
MW: NYC Rib King PC 2019 Winner, Pig Island 2019 Rookie of the Year, Meadowlands BBQ Battle Best Ribs 2019, Meadowlands BBQ Battle Best Chicken 2019.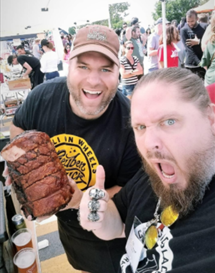 Pig Island NYC 2019 Competition with the Real Brimstone
AP: You mentioned that newcomers should do their homework?
MW: Yes, you must do your homework; research the market, the demographics, and legal requirements in your location. Plus, understand that the restaurant business takes time to establish itself, so you need to be well prepared.  Plus, you will be putting in lots of hours so you'd better love BBQing.
AP: What projects are you currently working on?
MW: Starting a Podcast called Salivation Radio, and there is always something fun and exciting with new beers we are making.
AP: What is the most important factor to you in competing
MW: Not falling asleep (seriously), maintaining a good fire (that's where Lang comes in), and not taking things too seriously.
AP: What do you enjoy most about competition?
MW: The camaraderie amongst the competitors. Win or lose, we all have a fun time.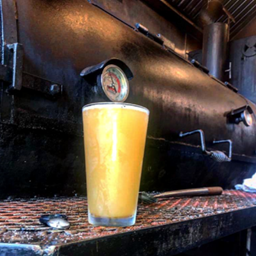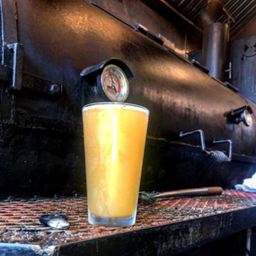 Jurassic IPA, the flagship IPA (6.2%ABV).
AP: What can you share about the BBQ community as a whole?
MW: Everyone is welcoming. BBQ is tough, its takes time, it can be grueling. But overall everyone has your back because BBQ still has room for growth and people want to see you succeed.
AP: Any other thoughts you'd like to share?
MW: We have learned from some of the best in the business. Lucky for us, the best is Chef Paul Kirk, the Kansas City Baron of BBQ. Paul is a very knowledgeable guy and has shown us the path to making some great 'cue.