AUSTIN—Since 1975, Skeeter Miller's The County Line barbecue restaurants have been dishing out ribs, brisket, turkey and sausage "so good you'll want to get it all over ya," their slogan says. Loyalists who have been coming since the beginning remember all-you-can-eat plates for $6.75.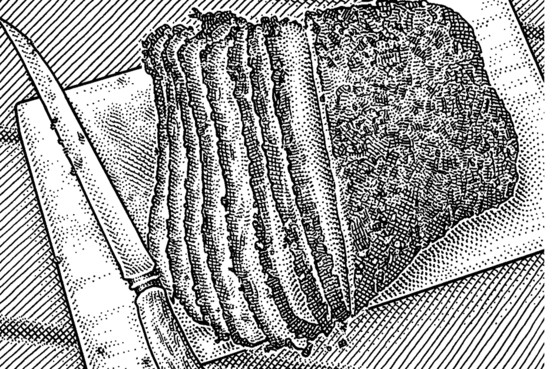 Slice of Texas
Amid the pandemic and the fast-rising cost of meat, Mr. Miller has had to raise prices, including four times in just the past year, he said. When he pushed the price of the Big Daddy Platter—a hefty rack of slow-smoked beef ribs—to $32.99 from $18.99, he handed all the waiters sheets with his cellphone number to give to any customers who complained.
"If you go into a high-end steakhouse you expect prices to be high, but when you walk into a barbecue restaurant, you don't," Mr. Miller said.
No one has yet called, he said. But he is prepared to explain how fast-rising meat prices are eating away at Texas barbecue restaurants, a pillar of the state's culture. Some restaurateurs are getting creative to stay afloat, raffling off briskets and incorporating trimmed fat into other dishes. Some are adding sides and liquor permits. Many worry about keeping the Lone Star tradition alive.
While restaurants of all kinds are feeling pinched by the rising costs, barbecue restaurants traffic in huge quantities of meat, typically sold by the pound, and often have few other offerings to offset price fluctuations. Texas barbecue is dominated by brisket, which many restaurant owners said has doubled in wholesale price over the past year or two.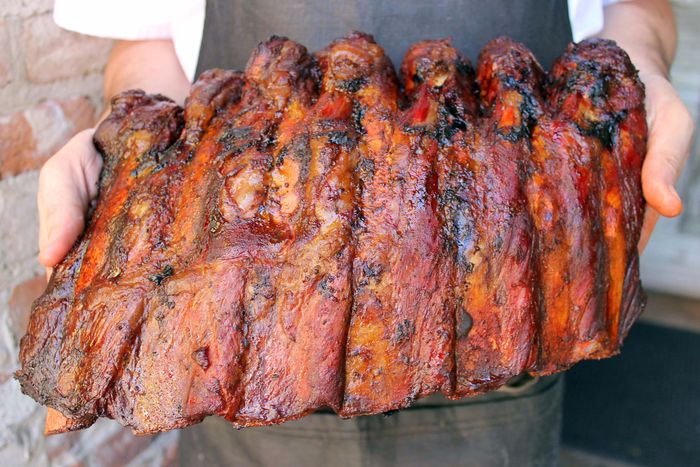 A rack of beef ribs at The County Line in Austin.
PHOTO: COUNTY LINE INC.
"It is a crisis and we are deeply concerned," said Emily Williams Knight, president of the Texas Restaurant Association, adding that sustained high meat prices could force many pitmasters in smaller towns to fold up. "In Texas, in all 254 counties you can go get barbecue—that's what we could lose."
In tiny Jefferson, a historic rail town of 2,500 people near the Louisiana border, Joseph's Riverport Bar-B-Q can't support charging as much as urban restaurants, owner Stephen Joseph said. Raising sandwich prices has already caused him to lose some of the locals he used to see during the week, he said, but weekend visits from tourists have kept him afloat.
He has gone to new lengths to keep any meat from going to waste. He's become less aggressive in trimming briskets, leaving more fat. What brisket fat he does trim, he mixes into burgers and sausages. He's shifted from cooking briskets in butcher paper, which leaks fat, to aluminum, which holds it in.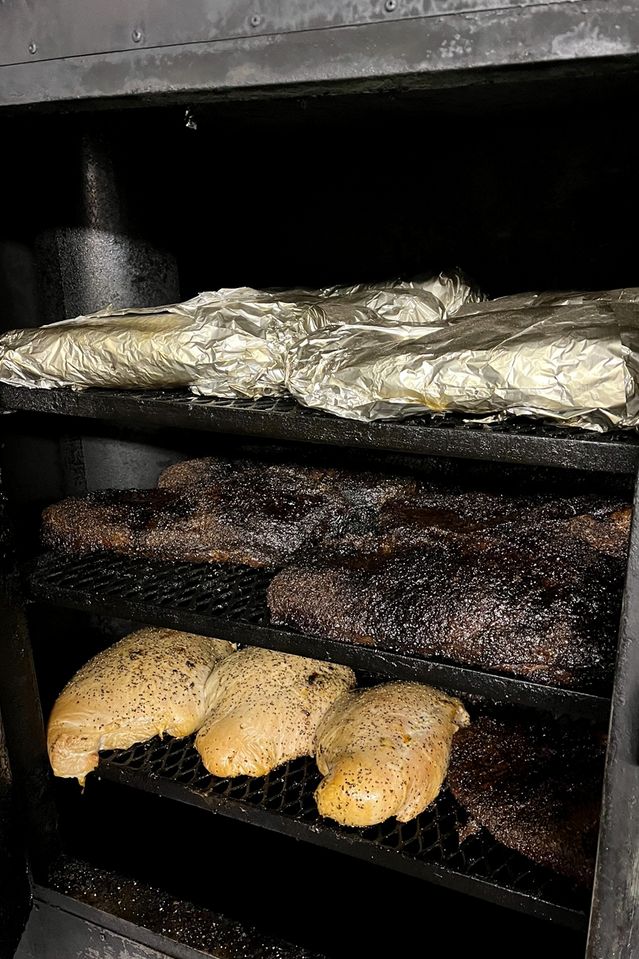 Briskets wrapped in foil cooking at Joseph's Riverport Bar-B-Q.
PHOTO: STEPHEN JOSEPH
"I don't think it makes as good a brisket, but sometimes you've got to do what you've got to do," Mr. Joseph said.
Modern Texas barbecue emerged from a blend of cultures going back to Spanish settlers, who largely cooked cabrito and barbacoa—goat and beef heads cooked in earthen pits—according to Robb Walsh, author of "Legends of Texas Barbecue." Enslaved Black people and cotton planters later imported Southern barbecue, cooked in trenches and including pork, while German and Czech settlers brought the practices of making sausage and smoking meat above ground.
Today's Texas barbecue is focused more on beef and on stand-alone smoked meats rather than the sauce-heavy variety popular in other parts of the South and Midwest.
The current surge in prices owes to a host of factors, said David Anderson, an agricultural economist at Texas A&M University, including labor shortages in meat production plants, rising feed costs caused by drought, and pandemic-related supply-chain issues.
In Houston, Russell Roegels of Roegels Barbecue is charging $30 for a pound of brisket that was $20 two years ago. That's still below what he needs to make a reliable profit, he said.
"Sometimes we don't make any money, but we are surviving," he said. Though he found it hard to hit the $30 mark, he added, "it was either that or stop selling brisket."
Patrons at Austin's The County Line.
PHOTO: ELIZABETH FINDELL/THE WALL STREET JOURNAL
Mr. Roegels recently opened a second location, in the suburb of Katy, where he added a full bar. "We're hoping that offsets the cost a little bit," he said.
Raul Rodriguez Jr., owner of RJ's BBQ in the border city of Brownsville, has been in business since August 2020 and has already had to raise prices twice. He also moved from a full-service restaurant to a walk-up location in a mall, where he got a deal on rent. To bring in more revenue, he's started relying more on combination plates, such as barbecue sandwiches or tacos with sides like potato salad or beans, and on nachos or other higher-margin products that incorporate some meat.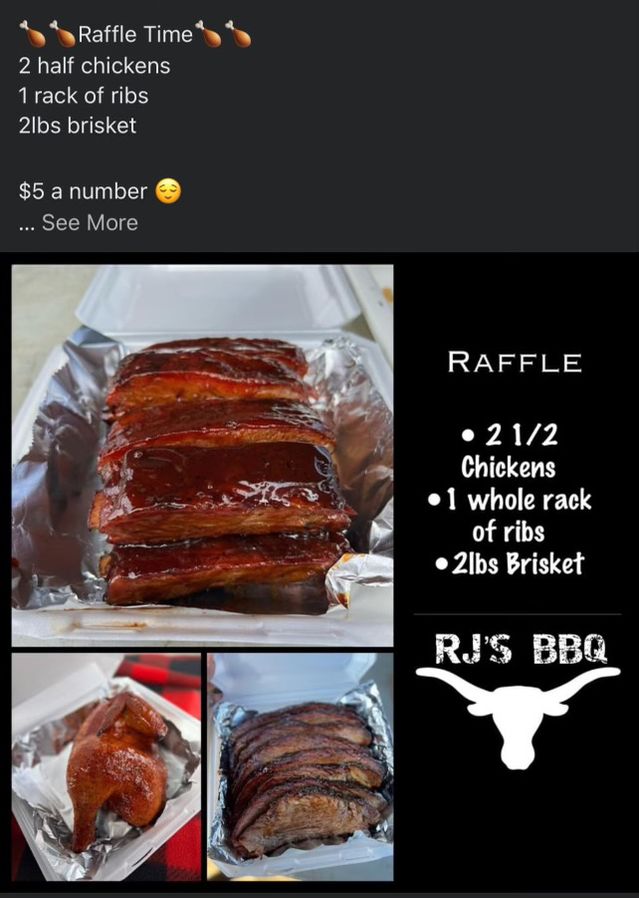 One of Raul Rodriguez's online promotions for his raffles.
PHOTO: RJ'S BBQ
Mr. Rodriguez recently found another trick: selling raffle tickets for things like a whole brisket or a catered event package. The ticket sales, at around $5 to $8 each, have brought in more than the cost of the meat. "Whatever we can do to bring in income," he said.
Texans hardly seem ready to give up on the state's signature meal. In Facebook groups dedicated to Texas barbecue fandom, a recently popular meme shows a portly man dancing on a stripper pole. "If you see me doing this… Mind your business. Brisket is expensive," it reads.
Jon Erekson, a high-school history teacher in the Houston area, has become a barbecue aficionado since moving to Texas from Montana two decades ago. He said rising prices have caused him to eat less at some nearby barbecue restaurants, where he senses operators are cutting corners.
Instead, Mr. Erekson and his wife now take weekend road trips to go to top-rated destinations around the state. He figures if he's going to eat barbecue, he's going to be picky about it. "I don't care about the drive," he said.
This article was written by Elizabeth Findell and published by The Wall Street Journal.