J&C BBQ and Catering
The Pacific Northwest isn't typically well known for traditional barbeque. Most BBQ restaurants use pellets, gas, gas assist, wood chips or liquid smoke. J&C uses all oak wood in their smokers which provides a more traditional, complex flavor profile. That's one of their differentiating factors. Their Lang smokers are positioned in the front of their restaurant which is visible to the street. They love what they do and like the idea that the community can watch them at work in the cook area. When you walk into J&C restaurant you'll find not only exceptional service, take in the aroma of meat smoking, but discover an atmosphere that is warm and inviting.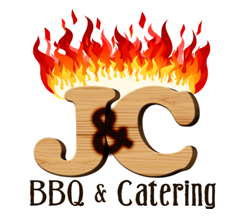 From the beginning, Joe and Christy Poteet started in much the same way as most entrepreneurs. Joe was working 72 hours a week at a local paper mill and Christy had been an injured paramedic looking into retraining for another line of work. She did complete her degree in Business Management.  Joe was smoking meats for 20 plus years, catering for family and friends. Joe started doing research on food trailers and found that the food trailer business is a booming industry. For years everyone suggested that they should open a restaurant. Unable to find one in his hometown of Sweet Home, Oregon, he finally located a food trailer builder in Portland, and had one custom built. Then they looked all over the Pacific Northwest to find a builder who could construct a smoker that would fit on the porch of the food trailer, but none of the builders could meet the specifications that were needed. The research led them to Lang Smoker Cookers. The 84" Lang Deluxe Kitchen Cart Model was a perfect fit on the porch. They started J&C BBQ and Catering in the summer of 2016 and they were off.
Street Taco Tuesday Special  

Pig-tato, baked potato smoked loaded with butter, sour cream, shredded cheddar cheese and our pulled pork
Researching means business
Christy involved herself in market and demographic research and discovered that they could provide their cooking ideas as a service to their community. For two years Joe and Christy tried to keep up the demand not only for their customers, but for their catering clients as well. Limited space and limited refrigeration hindered them to daily production only. So, they started looking to expand to brick and mortar. Initially they found a location in their hometown, but during the remodeling process they ran into a hindrance that could not be resolved. So, they turned their efforts to the neighboring community of Lebanon. They looked at multiple locations, but none met the requirements needed for their outdoor cooking idea. Another restaurant owner reached out to them providing information on a location where the owners were looking for a lease.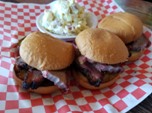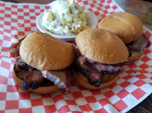 Smoked Brisket Sliders
After negotiating between the city and the fire department to get the initial approval for the intended outdoor cooking location and specifications, a lease was finally signed. The building had been a local country cafe (Korner Kitchen), for nearly 30 years. Joe and Christy took on the task of redesigning the aged building to create a southern dining experience. Antiques were used, creating an interesting visual experience to their dining room.

Candied Glazed Ham                                          

KCBS Competition Pork Turn-in box
Start good and get better
They operated their food trailer business providing BBQ sandwiches, which was fairly simple.  However, their vision was geared to provide more traditional BBQ meals. They knew they could create traditional barbeque and homemade side dishes; a taste that couldn't be found outside the South. The community situation suggested the need for another breakfast restaurant since the selection was limited including finding a good burger place. Although these menu items weren't initially in their business plan, they were willing to provide it as a service for the community. Home-style breakfast that incorporated family recipes and their signature smoked meats rapidly become popular. As for their burger menu, they wanted to set themselves apart from other burger places and incorporated their own twist on their burgers by adding smoked meats. In November of 2018, their doors opened and J & C has become a new local hotspot.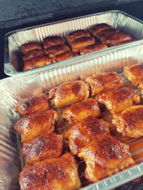 Smoked Chicken Thighs
Pitfalls along the way
Christy put it this way, "The first pitfall was to realize that many people don't understand what BBQ is or how much time and effort goes into every meat. We had to educate people to get them to understand that we are not a fast food place. That it takes hours to smoke meat and when we sell out, we are sold out until the next day."
People in the NW want sauced BBQ; however, Joe and Christy felt that smoke on the meat is just as important as the rub that they make and they only serve sauce on the side. "We don't want to cover up a flavor, or mask a flavor or create a flavor that isn't there. We want our meat to stand on its own and for its flavor to shine," added Joe, "and that's one big reason we cook on Lang Smoker Cookers."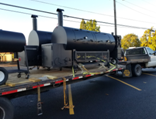 J&Cs two 108 Lang smokers being delivered to their restaurant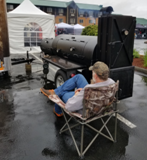 Joe Poteet manning the Lang smoker at the KCBS competition in North Bend, Oregon
You learn about business by doing your homework
"I can't stress this enough. You have to do your homework; research the market, the demographics, legal requirements, the cost and time you need to put in. Understand that the restaurant business isn't a get rich quick business. It takes time (a lot of time!) and a constant effort to keep things going," said Christy.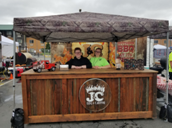 Aurora Sherwood and Brittany Poteet at the KCBS Competition in North Bend, Oregon
Some key business points Joe and Christy found to be critical
Understand the needs of your target market.
Make changes where change is needed.
Understand you can't make everyone happy.
Any business is caring for a child 7/24/365.
It takes years before it can take care of you.
Take business classes.
Understand how to avoid pitfalls and making unnecessary mistakes.
Have enough cash flow and cash reserves to get through the difficult times.
Hiring employees is very difficult.
Listen to your customers; they see, taste and hear things you might not.
Customers can be a good judge of your potential success.
Have all the local governmental papers and certifications in order.
Have an accountant and insurance agent.
Christy Poteet at the KCBS competition BBQ Blues and Brews on the Bay at the Mill Casino in North Bend, Oregon
Crucial to business success:
It there's any one factor above all to be successful in your food business, Christy wrapped it all up in a few words that you might to put on a plaque and live by—
Remember customers are your shareholders. Getting them in the door and making them happy is a key to success. They pay your bills. Our employees know that it is our job to get customers in the door and it is our employee's job to get them to come back. Remember negative word of mouth will travel faster and farther than positive words.
If you are going to get into the food business make sure that you have a good source of wood. We currently use one cord of oak a week. There's nothing worse than running out of wood. You run out of wood, you can't cook. What you cook on makes or breaks the quality of your meals.
J&C BBQ purchased their first Lang model 84" Deluxe Kitchen Cart model for their food trailer in 2016 and still own it. They also purchased a Lang 84" Deluxe Kitchen model on a pull behind trailer with a chargrill. This unit is used for BBQ competitions and community events. At the J&C BBQ restaurant Joe and Christy run two Lang 108" cart models.
Great support makes the difference:
J&C BBQ has an advantage in that their Lang smokers have reverse flow, which helps produce a more even temperature throughout the barrel. The reverse flow gives their meals a flavor profile that is– and this is important– a consistent, unsurpassed flavor profile. They also like the capacity of the units and that they are well constructed. They also feel that Lang doesn't just manufacture smokers, but they take a real interest in your business and the BBQ community and provide a great deal of support. That matches Joe and Christy's vision—to be consistent with producing perfect food every time, such as their favorites, brisket, pork butts and ribs.
KCBS Competition St Louis Style Ribs Turn-in box
Competing for more time.
Joe and Christy are Kansas City Barbeque Society (KCBS) members as well as certified KCBS judges. Due to the restrictions of owning and operating a restaurant, they are limited in the amount of time they spend competing. They compete in the KCBS competition BBQ Blues and Brew on the Bay event in North Bend, Oregon at the Mill Casino. They intend to compete more as time allows. As of this writing J&C BBQ is the middle of their busy catering season tending not only their regular customers but making sure their catering clients are happy with their service.
They plan, at some point in the future, to organize a local BBQ competition. Competition plays an important role in professional growth. Joe says, "Even though competing is a lot of work with no guarantee of winning, getting a call is awesome. You know that all the hours spent organizing, practicing, packing, traveling, setting up and cooking has paid off when you hear your name called." In 2017  J&C  competed against 34 other teams at the Mill Casino's BBQ Blues & Brews by the Bay; a KCBS event. They competed against some of the biggest names in the barbeque world and placed higher than teams that had been in competition for some time. In 2018 they developed their menu and flavor profiles and competed again.
They won 9th place in brisket and 10th place in pork ribs making 12th place overall out of 35 teams. They also took the KCBS Judges class and were certified KCBS judges. They look forward to compete in the American Royal World Series of Barbeque in Kansas City and the Jack Daniel's World Championship Invitational Barbeque Competition.
Most recently J&C competed in their first PNWBA (Pacific Northwest BBQ Association) competition in Keizer, Oregon on July 20th and 21st. They won the Champion People's Choice Award for their Texas Twinkies.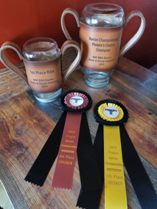 Awards won at the NW BBQ Bacon Beer & Steak Festival.
Texas Twinkies are large jalapenos stuffed with cream cheese and smoked brisket, wrapped in bacon and seasoned with J&C's homemade rib rub and then smoked on their Lang. They placed 1st in Ribs, 5th in brisket and 8th in chicken, placing 6th overall out of 17 teams. Joe also competed in his first SCA steak cook off, placing 2nd and missing the golden ticket to Fort Worth, Texas for the World Championship Steak Cook-off by only 3.4 points.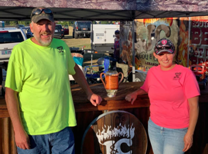 Joe and Christy Poteet with their People's Choice Award at the same competition
A brisket recipe to share
1 part black pepper
1 part salt
½ raw sugar
½ granulated garlic.
Trim brisket, season with rib, place on grate, and cook at 225 degrees until internal temp of 165 degrees. Wrap in pink butcher paper and cook until probe tender approx 195-204 degrees. Let rest. Slice and enjoy.