The Cooking Classes Will Be Held April 8 and 9 in Georgia
You have a little more than two months to buy Lang BBQ Bucks for a loved one to use for the Lang BBQ Smoker Q School coming up in early April!
The Q-School smoker cooker classes will be held from 8 a.m. to 4 p.m. April 8 and 9 in Hoboken, GA. Each class is $350.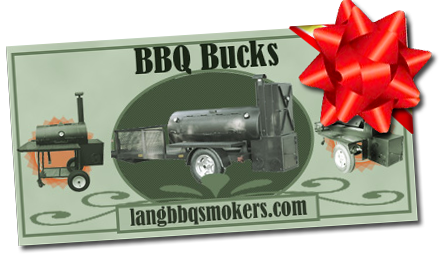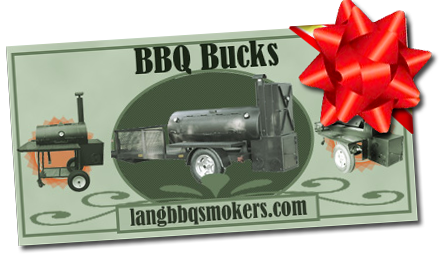 Do you need a great idea for a gift for Valentine's Day, a birthday, anniversary or Easter (which is March 27 this year)? Lang BBQ Bucks is the perfect, unique gift and can be used for the Lang Q School Cooking Classes! The Bucks can also be used towards purchase of a Lang BBQ Smoker Cooker or any of the accessories or merchandise, such as heat gauges, hats, T-shirts, signs or truck tags.
The Q School, in addition to teaching all the latest tips and tricks on how to grill, cook or smoke meat, chicken or fish to perfection, also teaches participants how to season and clean the Lang smoker, which are key to achieving prime barbecue flavor.
Check out our links for more information about the Lang BBQ Bucks, Q School, merchandise, accessories and, of course, the Lang BBQ Smoker, which uses revolutionary technology to achieve the best barbecue flavors!