Unleash new flavors and truly up your BBQ game with Lang's new lineup of rubs and sauces.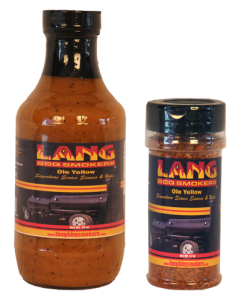 Lang has done more for the world of grilling and barbecuing than any other company out there. Taking that BBQ expertise into rubs and sauces was a natural next step. Combine a Lang Smoker Cooker with our rubs and sauces, and you'll move up a few notches on the expert results table. But we've done more than just add on to a long tradition; we've created a whole new line of flavor-bursting results. We've crafted truly unique blends of seasonings, rubs, and sauces to suit every taste and style, and all to our strict Lang "no compromise" standards. These products are going to bring much happiness to all your meats.
Here you have the ingredients that will wonderfully enhance with a spicy and tangy flavor; a southern recipe blending peaches and mustard. Someone recently put it this way, "Ole Yellow tastes so good I would eat it off a quarter, if that is all that was available."
It's sweet and spicy to the max! But we should add, Ole Yellow isn't for the faint of heat!