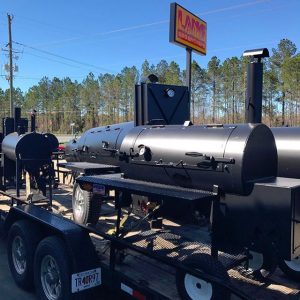 Dear Gentlepeople –
You have restored my faith and confidence in American businesses.
I cannot commend Lang BBQ Smokers enough for the fantastic customer experience I've had over the past week.
I ordered a 36 Classic on March 3rd and it was delivered to Michigan on March 9th.
The young lady who initially took my order was very friendly, reassuring and had a delightful voice. AJ delivered our smoker yesterday and couldn't have been a better ambassador for the Lang brand. He called me to schedule the delivery time and kept in touch as he was approaching our area.
My neighbors were marveling at all the smokers which were loaded on his truck and trailer and the couple of neighbors that stopped by on their way home were all impressed with the size and quality of the different Lang smokers on the trailer. AJ, of course, told them where they could get one for themselves.
After unloading our smoker, AJ took the time to show us how to season and clean it, notwithstanding that it was getting dark and he had a long drive to find suitable accommodations as a result of the recent windstorms which we had that knocked out power to almost a million homes here in Southeast Michigan.
I surely wish all my purchasing experiences could be so smooth and that I could be as pleased with my purchase as I am with my Lang 36. Please extend my sincere thanks to the folks on the manufacturing floor as well, as their craftsmanship is clearly exceptional. In sum, I couldn't be happier with my purchase. The Lang team is the best!
Sincerely,
Mark Cherry
Ben Lang, AJ, and the rest of Lang BBQ Smokers appreciates your comments!