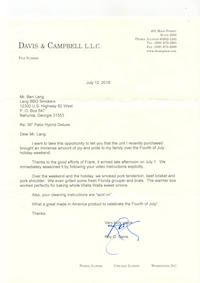 Dear Mr. Lang:
I want to take this opportunity to tell you that the unit I recently purchased brought an immense amount of joy and pride to my family over the Fourth of July holiday weekend.
Thanks to the good efforts of Frank, it arrived late afternoon on July 1. We immediately seasoned it by following your video instructions explicitly.
Over the weekend and the holiday, we smoked pork tenderloin, beef brisket and pork shoulder. We even grilled some fresh Florida grouper and brats. The warmer box worked perfectly for backing whole Walla Walla sweet onions.
Also, your cleaning instruction are "spot on".
What a great made in America product to celebrate the Fourth of July!
Thanks.
R. Davis
Peoria, IL