Darryl Strickland and the Lang BBQ Competition Team
Darryl Strickland is a model of success when you go "by the book." He has accomplished a great deal as a Lang Pit Master, Lang Q-School Instructor and award-winning competitor. Darryl actually started out in barbeque as a stress reliever from his profession, a paramedic. Dealing with so many life and death issues routinely is a heavy responsibility that naturally carries stress along. Barbeque brought to Darryl a new dimension in de-stressing. And it turned out that he's very, very good at it. But that's not the whole story, there's more BBQ DNA running through his veins than you might know.
Your world can change faster than cranking a vent on your Lang Fire Box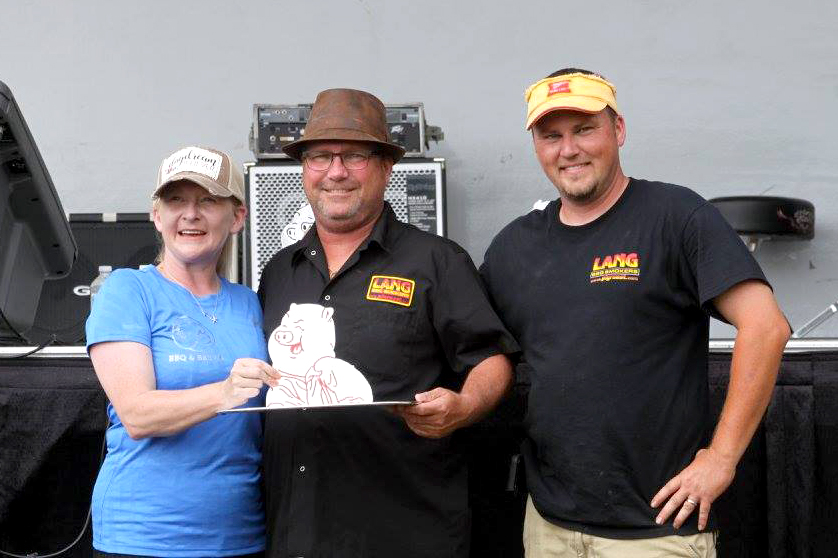 Darryl has come to discover that the BBQ world is a unique family in the truest sense. The realization of that came in January of 2018 when an unexpected heart attack hit him. He was quickly flown to a cardiac facility in Jacksonville Florida. A surprise as big as the heart attack came when people, from as far as Texas, drove to the hospital to lend their support and good wishes, offering to be of any help they could to him. The waiting rooms were virtually filled with people from the barbeque nation, most of which he didn't even know. Darryl believes completely that BBQing is really all about people and relationships. Whether you're cooking professionally, in a restaurant, a competition or anywhere else it's about making friends and family feel welcome by enjoying a meal together, which he regularly does on one of his two Lang 48s" or his Lang 84."   It's no stretch to say that for Darryl, you could say that BBQ means Bringing the Best Quality of life to those you care about. Having always been a people person, the heart attack event brought him to a whole new level of understanding.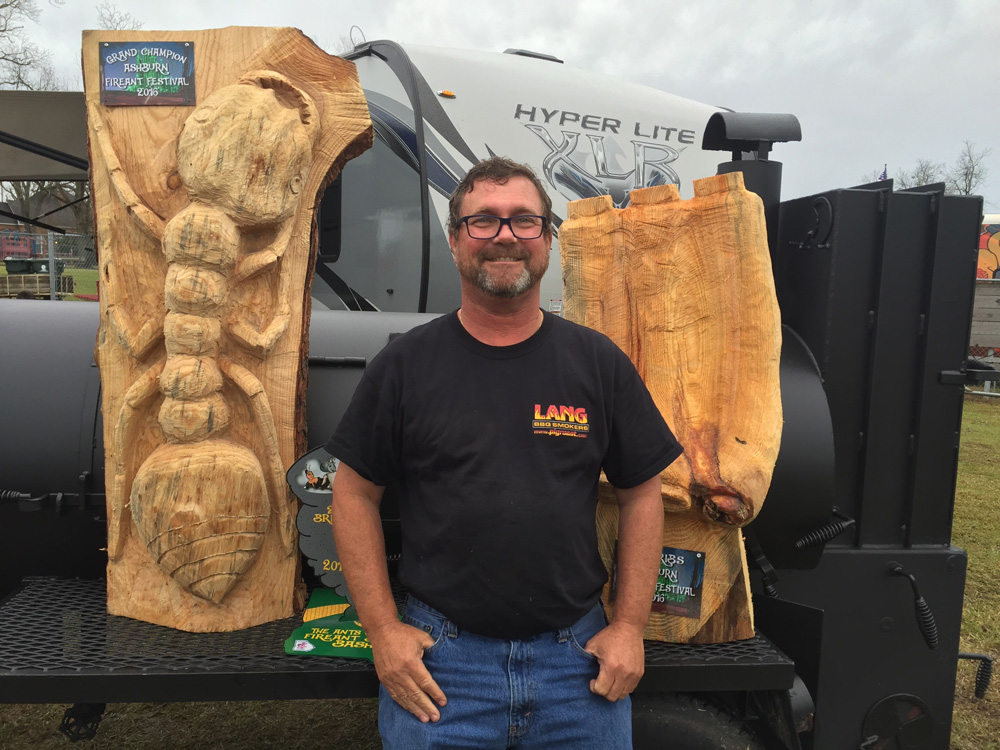 Darryl's dad originally got him and his brother Jason into barbeque.  They decided to try out some local competitions. The excitement and the fun of being with like-minded people simply turned into a kind of positive addiction to people.
Although Darryl has been cooking BBQ all his life (he has a culinary background from working in some very big restaurants), he started competing with his younger brother Jason to improve his skills and rub smokers with other talented people. In his role with the Lang BBQ Competition Team he travels throughout the southern states from Alabama to south Florida competing at various smoker cooker competitions. His award-winning cooking comes from his willingness to practice and learn. The driving reason behind that is the willingness to be part of and serve well the people he encounters.
Making family happen at Lang Q-School
The Lang competition team is comprised of Darryl Strickland, Matt Lee, Jason Strickland, and Michelle Strickland. In March of 2016 they won the Grandmaster at the Fire Ant Festival in Ashburn, Georgia. They won team 1st in Ribs and 2nd in Brisket. Moreover, they won everything in the final Barbeque Cook Off! Darryl and Matt were instructors at the 2016 Summer Q-School smoker cooker classes. "Whatever I have accomplished, none of it would be possible without Ben Lang and his smokers. I don't mean that as Lang just being a sponsor, Ben and his family all treated me like I was family. I would not be doing what I do without them," Darryl added. "I want to keep the legacy alive. People helped me along the way and I do the same. If I don't pass on what I know I'll just be a selfish and vain person. This is all about family, any way you look at it," Darryl made a point of saying.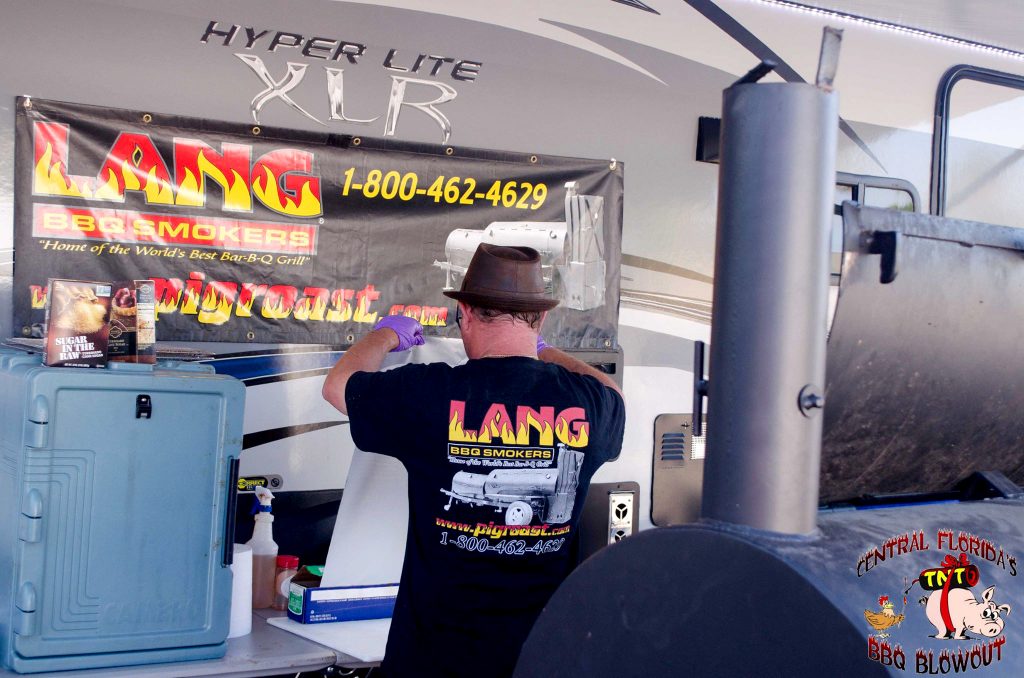 Cooking with Lang
Darryl early on came to cook on a Lang. "Actually," he said, "it was more like a Lang smoker chose me rather than the other way around. Since he originally moved into smoking as a form of de-stressing, he was also determined to cook on the best he could find. Darryl found Lang smokers cookers easy to use and clean. The reverse flow gave his meals a flavor profile that was unsurpassed. Lang BBQ smokers are fuel efficient and offer flexibility, whether you're low and slow or hot and fast, it delivers every time. The many accessories available simply added to the appeal of the offset-fire-box design. The smoker cooker models include designs for backyards, competition, and commercial units. The factory will also customize a unit to your needs. Above all, you have a really dedicated Lang family and company that will support and stand behind you.
A favorite meal (Everybody's got one)
Darryl favors his brisket and rice meal, Texas style.
Cracked fresh pepper
Kosher salt on the meat side only
325 degrees with the fat side down
Look for an internal temperature of 160 degrees and a bark finish
Off the smoker and rest it about 2 to 3 hours
Chop into chunks, put into a pot of water, bring to simmer and add one cup of rice
Rest another 20 minutes and enjoy!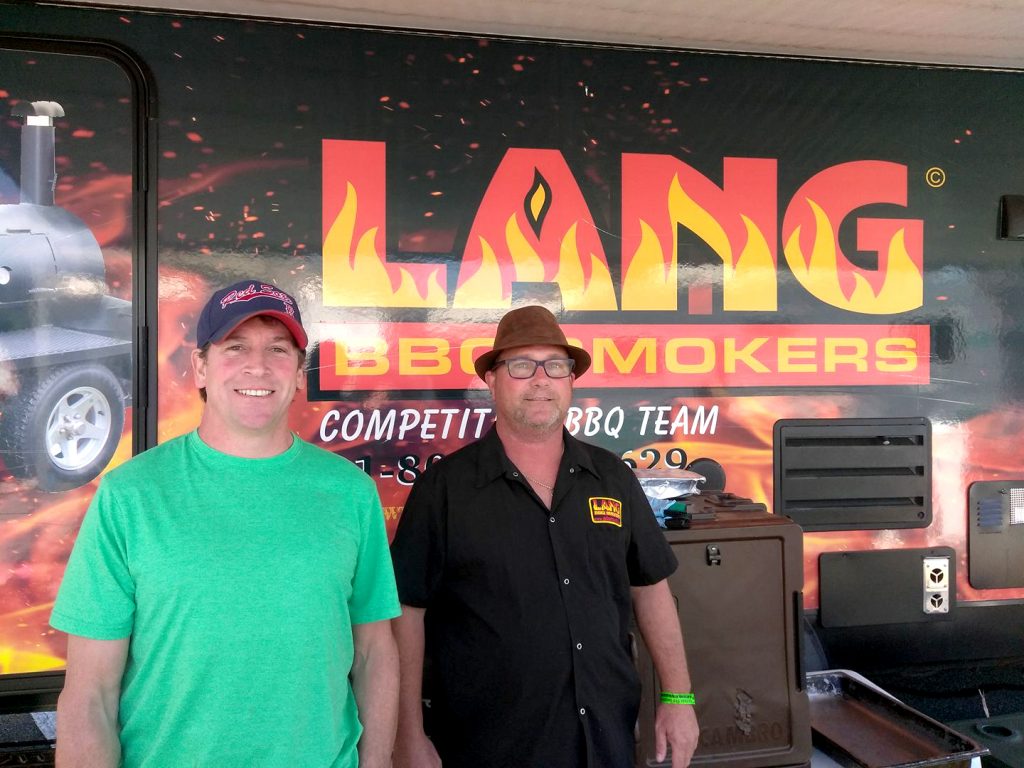 Q-School. You might want to take notes
Q-School is a unique venue where BBQ enthusiasts, seasoned barbecue competitors, culinary students and those considering opening a BBQ business can develop new talents, smoking skills, and professional expertise. Participants learn how to prepare and select items to cook, carve and present food, season, and develop a flavor profile along with the tricks of smoking great food.
Please follow and like us: